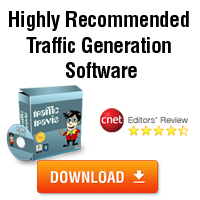 Anyone or any business that has a website, would obviously like to increase website traffic, its good for business to have a busy website. Doing this successfully is a bit of a mystery to many businesses. Especially if the website owners main line of business is actually 'offline'.
Examples of this might be an doctors office, a lawyer, or a barbershop, a local photographer, a landscaping business, etc. The website is basically an advertisement for their 'brick and mortar' business. Advertising can be very expensive when using traditional mediums, like the local paper, radio or TV. A website is expensive to develop, but is pretty cheap over time, so it just makes sense for a business to have a website.
Often people get that far, they get a website built, and don't do much of anything else, thinking that they are done, their website often never to be found. For the website to be an effective way to attract customers to their business, the website needs to get traffic. It doesn't take a lot more effort or expense, but it can make a BIG difference, to implement a few 'tricks' to increase search engine ranking and the amount of traffic your website gets. Strategic SEO and a bunch of solid backlinks. Building a website doesn't have to be that hard either, this previous post describes "How to build a website without tech skills or piles of cash". For this post I am going to focus on Backlinks. However, the following video by Aaron Wall introduces onpage SEO,
First, is to understand why you would care to build a back link. Backlinks are a component of a websites search engine ranking. Search engine rank is based on a number of factors, such as keywords, internal links, outbound links and backlinks (it is actually much more complicated, but I will spare you the technical details). Here is a brief video I found that gives a simple definition of backlinks.
Keywords are the phrases that a person may type into Google (or other search engine) to find websites related to that phrase. So if I was looking for a barber in Vancouver, I might type "Vancouver barber shop", this is the keyword phrase and I would expect that it will bring up lots of relevant websites. If you are unsure what the best keywords are to associate your website with, you can do keyword research with Google's free Keyword tool Start with phrases you think a person may type to find a website such as yours. To keep it simple, basically what you need to do is make sure your website has some of the most relevant keyword phrases built into it. This needs to be done in a 'natural' way, which means your website shouldn't be stuffed with keywords, but rather contain them within the context of the website in such a way that they flow with the content of the website.
Internal linking is a pretty important factor in search engine ranking as well. What this means is to have links from one page of your website to another, utilizing your keywords. Above I have an example of this. I have linked from this post to another. While the keyword I used to link from is not related to the keywords of this post, it is related to the keyword of that page. This post is developed around the keywords "Back Link to Increase Website traffic" and it would benefit further if I link back to it from another page on my website.
Outbound links are simply links from your site to another 'authority site' or site related to your keyword phrase. I used a few authority sites within this post, linking to Googles keyword tool,  linking to Wikipedia and embedding some Youtube videos.  An authority site is a website that shows up high in the search results and has a high amount of traffic. Linking to authority websites adds credibility to your content, a factor Google uses within their ranking algorithm.
Backlinks can have a HUGE impact on your ranking and your traffic. A back link is a link to your website from another website. Not every back link is equal and some will actually hurt you more than help you. Currently, social media (Facebook, Twitter, Youtube, Digg, etc), is the most powerful type of back link, especially when it is posted by multiple users. There are a number of others that are very powerful too. High ranking websites and blogs can be powerful back links as can an active and relevant forum. There are paid backlinks and free backlinks. One thing is for sure, you need backlinks!
Share your backlink knowledge or questions below.